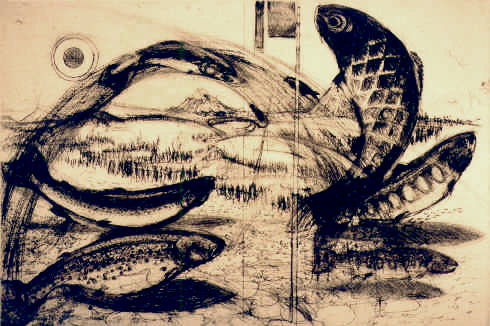 I.
Steelheads/Steelhearts
On boy's day I I.D.
with slant/Sockeyes of
Steelheads/hearts of the
Rocky Mountains rather
than flying paper Carp...
II.
Slant/Sockeyes
They tagged and released us
after four years
in a USA reeducation camp.....
They tried to drum out the drums of the Afro/Americans.....
And the Latino still speak
and eat Spanish
500 years later.....
We went 1000 miles
up inland Rocky Mountains
with special long enduring
genes and chromosomes
only to be watered down
Only a few are reaching
the headwaters
anymore
When it comes to our kinda soul vittles -
"No you can't take that away from me"!


---
Munio's Home
Return to Camp | Aerogami | Autobio/Graphics | At Large
What's New? | Letters to Ground Zero | Info | Virtual Cafe
DPNimages Project Page
---
All Contents except where specified are copyright © 1986-1996 Munio Makuuchi, including the term "Aerogami"
All photographs except where specified are copyright © 1996 Josef LaVigne